People
Co-Directors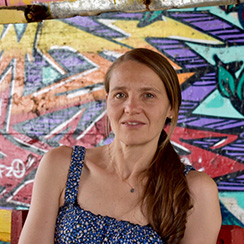 Pascale Joassart-Marcelli
Professor, Geography
Director, Food Studies
Director, Urban Studies
Pascale earned a PhD in Political Economy and Public Policy and a Post-Doc in Geography at the University of Southern California. She joined SDSU in 2007 where she has been teaching courses in urban and economic geography and developing new interdisciplinary courses on food and agriculture, including Geography of Food, Feeding the World, Food Justice, and Food, Place, and Culture. She has published two textbooks on the social, political and ecological connections between food and place including Food and Place (2018) and Food Geographies (2022). Her research focuses on the significance of food in cities, particularly in immigrant communities, as a source of life, livelihood, cultural identity, community organizing, and neighborhood change. Her recent book The $16 Taco (2022) has won multiple awards. She has published over 50 peer reviewed articles and book chapters.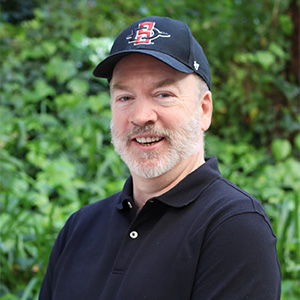 John Love
Associate Professor, Chemistry and Biochemistry
Director/Advisor, Environmental Science
A main research focus of the SDSU Love Laboratory is Protein Design which is why Dr. Love pursued a Ph.D. in Biochemistry at UCSD followed by postdoctoral research in the Protein Design Laboratory of Prof. Stephen Mayo at Caltech. A main protein design project that Dr. Love and his students pursue at SDSU is the engineering of novel biomaterials that are being designed to potentially replace all the non-biodegradable plastics that are so pervasive in our world. To achieve this they are combining insect proteins with waste cellulose such as sugarcane bagasse, palm fronds, nutshells and any waste cellulose generated from food production. In another Environmental Science-based project Dr. Love and his students are collecting food waste from SDSU restaurants, which is then fed to black soldier fly larvae, which are fed to chickens. The resulting eggs will be distributed to the SDSU student pantry or to other people in SD who may not have access to quality nutritious food. This is a highly sustainable process that prevents food waste from being shipped to the SD landfill where it would ultimately generate the potent greenhouse gas methane.
Jessica Barlow
Professor, Geography
Executive Director, Center for Regional Sustainability
Director, The Sage Project
Jessica Barlow is a linguist who has spent much of her career conducting research on child language acquisition and disorders. Currently, Barlow focuses on sustainability, with a particular emphasis on sustainable cities through community engagement. Within the Center for Regional Sustainability, Barlow founded and directs the Sage Project, which engages in large-scale partnerships with local governmental and nongovernmental organizations in the Southern California-Baja California region via replication of the Educational Partnerships for Innovation in Communities (EPIC) Model. She is a founding board member and currently serves on the board of directors for the EPIC Network, an international 501c3 that unites the capacity of universities with local governments and communities to equitably improve quality of life and social wealth for all. In this capacity, she oversees efforts to grow the network internationally through collaboration with national and international agencies. Barlow has received funding to support her work through the National Institutes of Health, the National Science Foundation, the US Environmental Protection Agency, as well as numerous local nongovernmental organizations.
Fernando Bosco
Professor and Chair, Geography
Fernando Bosco received his Ph.D. in Geography at The Ohio State University and joined SDSU in 2002. As a critical human geographer, Bosco works at the intersections of urban, social, and political geography and teaches courses and seminars in those areas. He has conducted research on urban food environments in San Diego with projects such as young people's food practices and journeys in so-called "food deserts", impacts of ethnic stores on food access, and connections between urban agriculture, farmers' markets, and restaurants and processes of displacement and gentrification in the city. His research often involves qualitative methods, including fieldwork and participatory methodologies. He has authored or co-authored over 50 refereed journal articles and book chapters and co-edited three books, including Food and Place: A Critical Exploration (2018). Bosco is the vice president of the Association of Pacific Coast Geographers.
Iana A. Castro
Professor, Marketing
Director, BrightSide Produce
Iana A. Castro is a researcher, educator, and social entrepreneur. She is a Professor of Marketing at San Diego State University and a consumer behavior researcher and retailing expert. Her research explores how factors in retail and service settings impact consumer emotions, evaluations, preferences and choices.Her research program offers valuable insights for companies and marketers regarding their in-store retailing efforts in order to maximize consumer well-being and firm outcomes. The results offer recommendations for retailers and public health practitioners on how to encourage healthier choices. Her research has been funded by grants from the National Institutes of Health, the US Department of Agriculture, the National Science Foundation, and the Robert Wood Johnson Foundation Healthy Eating Research Program. It has been published in journals in the fields of marketing, nutrition, public health, and medicine.
In 2017, together with a co-founder, Dr. Castro launched BrightSide Produce, a full-service produce distribution service with a sustainable distribution model that delivers fresh fruits and vegetables to independently-owned markets and liquor stores in underserved communities and on the San Diego State University campus. BrightSide Produce provides San Diego State University students with the opportunity to operate and manage a business that is making a difference in the community. Since its inception, over 100 students have participated in the BrightSide Produce Internship Program. Dr. Castro has established partnerships with local governments and non-profit organizations, is an active member of the San Diego Food Systems Alliance, and frequently attends and presents at meetings focused on improving the local food system in San Diego County.
Lluvia Flores-Renteria
Associate Professor, Biology
Director, Binational Studies Program
Lluvia Flores-Renteria obtained a Ph.D. and a masters of sciences from Universidad Autonoma de Mexico. She held a postdoctoral position at Northern Arizona University studying fungal and forest interactions providing resilience to tree forests. She did a second postdoctoral position at Western Sydney University studying the causes leading to mortality of Australian forests. She is an evolutionary ecologist researching phylogenetics and population genetics of plants, evolution of reproductive systems, and the evolutionary ecology of plant-insect-microbe interactions under climate change. Using greenhouse experiments, common garden studies, field experiments and next generation sequencing technologies, she studies the genetic and environmental contributions to drought resistance in plants and the interplay between the responses of different plant genotypes and species and their associated microbes and insects to the stresses of climate change. She works with tribal communities to enhance native plant communities' resilience. View a list of Lluvia's publications.
Arielle Levine
Professor, Geography
Director, Sustainability Major
Arielle Levine obtained a Ph.D. in Environmental Science, Policy, and Management from the University of California, Berkeley. Dr. Levine's research focuses on the ways that people interact with their environment, with a focus on coastal and ocean systems. Much of Dr. Levine's research centers on achieving sustainable ocean and coastal food systems under a changing climate, exploring how ocean food producers (fisheries and shellfish aquaculture) adapt to change, and identifying ways that marine resource managers can support sustainable ocean systems and support the adaptive capacity of those who rely on ocean resources. Dr. Levine also directs the Sustainability major at San Diego State University. View a list of Arielle's publications.

Changqi Liu
Associate Professor, Food Science
Changqi Liu received his Ph.D. in Nutritional and Food Sciences from Florida State University. He joined SDSU as a faculty in 2016 and has been teaching food science courses. Dr. Liu's research interests include sustainable food sources (e.g., edible insects) and food production methods (e.g., hydroponics). View a list of Changqi's publications.
Jing Zhao
Assistant Professor, Food Science
Jing Zhao received her Ph.D. in Animal and Food Sciences from University of Kentucky. She worked as an assistant professor at California State University, Los Angeles since 2016 and joined SDSU as a faculty in 2022. Her research interests include agricultural by-products utilization (rice bran), novel protein development and characterizations (insect and algae proteins), utilization of plant and algae proteins in alternative meat products, and flavor characterization of protein-rich foods. She is currently researching rice bran protein extraction and utilization in gluten-free pasta, stabilization of C-phycocyanin, a blue colorant derived from spirulina, and characterization and synthesis of meat and seafood flavors from alternative proteins. View a list of Jing's publications.
Amanda C. McClain
Assistant Professor, Nutrition
Amanda C. McClain received her Ph.D. in Nutritional Sciences from Cornell University in 2016, and completed a two-year postdoctoral fellowship in Nutritional Epidemiology at the Harvard T.H. Chan School of Public Health prior to joining SDSU as faculty in 2018. Dr. McClain employs community-based approaches and social science perspectives to investigate how the stress of marginalization, especially food insecurity, shapes food choice and dietary intake and gets 'under the skin' to impact allostatic load and cardiometabolic risk among low-income and historically-marginalized populations, particularly Hispanics/Latinos. Simultaneously, her research aims to identify and leverage existing cultural, social, human, and material capacities (i.e., assets), as a part of behavior-change interventions embedded in existing infrastructure (e.g., federally-qualified health centers, food assistance programs), to mitigate the stress of marginalization and promote food security, nutritious diets, and cardiometabolic health equity. She is the Primary Investigator for several research projects funded by the National Institutes of Health and the U.S. Department of Agriculture, and partners with a number of San Diego local government and nonprofit agencies to promote equitable food access to historically-marginalized areas of San Diego County. View a list of Amanda's publications.
Ramona Pérez
Professor, Anthropology
Director, Center for Latin American Studies
Director, Aztec Identity Initiative
Ramona Pérez received her B.A. in Anthropology from SDSU and her M.A. and Ph.D. from the University of California, Riverside. She returned to SDSU as faculty in 2001 after serving as an assistant professor of anthropology at the University of North Texas (1997-2001). She became associate director of Latin American Studies in 2002 and director in 2010. She has worked continuously in Oaxaca, Mexico since 1994 and has run an ethnographic field school in Oaxaca for SDSU since 2002. Her work focuses on issues of gender and empowerment, nutrition intervention to address lead poisoning, migration from Mexico and Central America, violence against women and children, structural violence and health, and shifts in food preferences, preparation and consumption among migrant communities. Her publications are in English and Spanish and can be found in journals and manuscripts in the fields of anthropology, geography, public health, social work, criminal justice, and medicine. Dr. Pérez has held fellowships and research grants from the US Department of Agriculture, Tinker Foundation, Ford Foundation, National Science Foundation, and Department of Education.
Amy Quandt
Assistant Professor, Geography
Amy Quandt is an environmental social scientist and human ecologist and has been at SDSU since 2019. She received her B.S. in Biology from the University of Puget Sound, her M.S. in Resource Conservation from the University of Montana, and her Ph.D. in Environmental Studies from the University of Colorado Boulder. Her broad research interests focus on finding sustainable solutions to both environmental conservation and resilient farmer livelihoods. Dr. Quandt has spent the last 15 years living and working in East Africa with organizations such as the World Agroforestry Centre, Red Cross/Red Crescent Climate Center, Kenya Red Cross Society, Ethiopia's Ministry of Agriculture, USAID, and Peace Corps. Her recent work has focused on the impacts of California's Sustainable Groundwater Management Act of 2014 on agricultural land in Kern County, farmers and farmworkers in Imperial County, the role of mobile phones and mobile phone applications in delivering sustainable land use information, adaptation to climate change, and how people are building their resilience to extreme events and droughts. She has ongoing projects funded by the US Department of Agriculture, National Science Foundation, and the Western Center for Agricultural Health and Safety.
Stephen Welter
Professor, Emeritus, Biology
Steve Welter earned his Ph.D. from the University of California, Riverside in Entomology. Starting his career as an Assistant Professor in Zoology at SDSU, he transferred later to the University of California, Berkeley. After 27 years as a faculty member in the Departments of Entomology and Environmental Science, Policy, and Management, Steve moved back to SDSU to serve as their Vice President of Research and Graduate Dean for an additional 9 years before returning to the Biology department as an emeritus faculty member. His research interests span the applied – fundamental spectrum of biological sciences emphasizing insect ecology as it relates to understanding how natural and managed systems are regulated. Research programs included developing biological control programs in annual and perennial cropping systems, understanding the consequences of crop domestication on crop tolerance to herbivory, and the use of pheromones to suppress insect populations on local and regional scales. His efforts to develop more biologically sustainable alternatives to insecticides were recognized in a series of regional and national technology USDA transfer awards as well as a member of 2 teams winning the Innovator in Insect Pest Management Awards from the CA Dept. of Food and Agriculture.